Here's another original short story for free. This story is perfect for reading at bedtime to pre-schoolers between 4-8 years of age, or to challenge the reading skills of children aged 6-10 years
I have also made this story into a delightful rhyming romp, complete with 17 colour illustrations like the ones below. If you like the story below, you will love the rhyming illustrated version.
Beware, the Bear.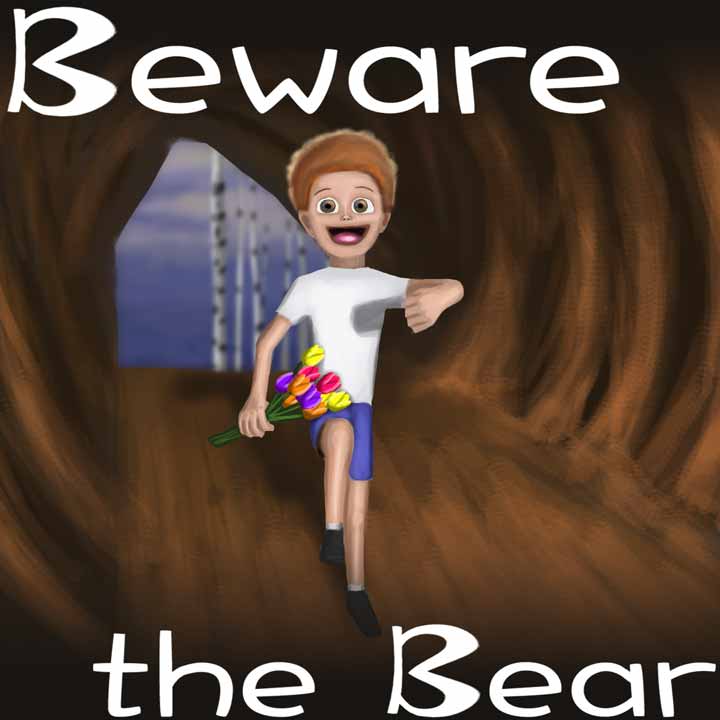 "Which path will you take home today?" Grandma asks. She buttons the jacket right to Nick's chin.
"Through the forest, Grandma," Nick says in a choked voice.
"Oh, that's a lovely choice. The snow has melted and the flowers are blooming early this year. You could pick some for your mother."
"Yes Grandma."
"Now, if you are going through the forest, you must be careful of bears, especially in the tunnel," warns Grandma. "They sleep lightly at the end of winter and they get very grumpy if they wake up early. So you must tread very quietly."
"I will Grandma," Nick says. "See you next week."
"Yes dear. And remember the bears," Grandma calls out.
"I will," Nick says over his shoulder. "Bye."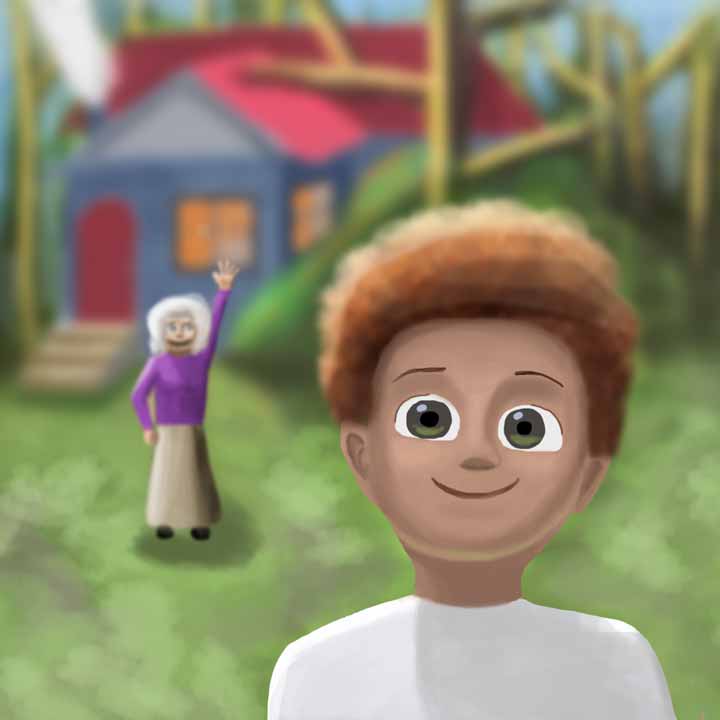 But Nick isn't afraid of bears. Not even a little bit. He's never seen one up close but if they are anything like teddy bears, then there is nothing to be afraid of.
He swings on the branches and jumps over rocks.
He rolls on the grass and takes off his socks.
He dangles his feet in the stream with the fish.
A ladybug lands on him, granting a wish.
He plucks a handful of colourful flowers,
to give to his mother in just a few hours.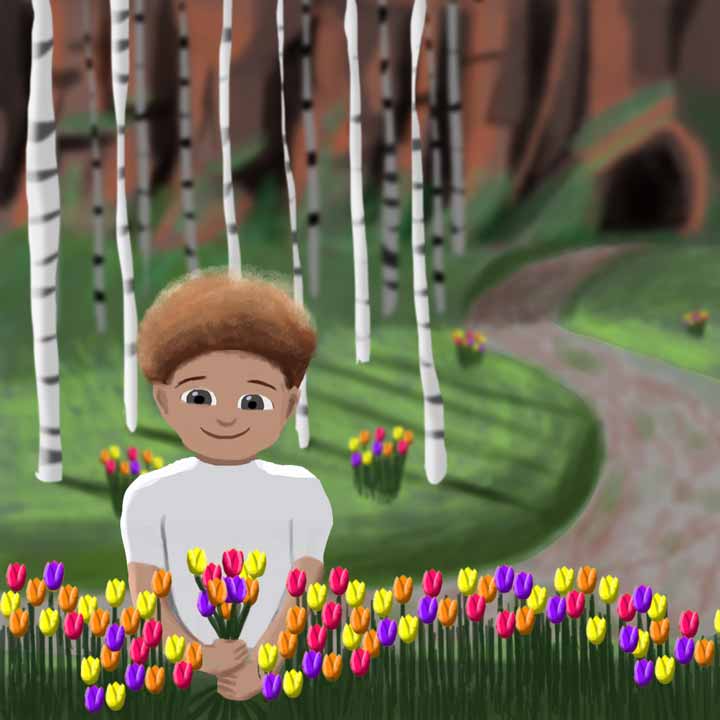 By the time Nick arrives at the base of the mountain, he has forgotten all about being quiet. The light of sunset is coming through from the other side of the tunnel and can't wait to get home for dinner.
His feet crunch on the tunnel floor and he hums a tune. Soon his hum turns to song and his footsteps become drums beating on the floor.
His song goes Yeah Yeah YEAH!
His feet go boom boom boom.
A deep voice says "Stop stop STOP!"
A huge hairy bear shifts into the tunnel and blocks the golden sunset from view.
"Little boy, why are you making all that noise? Is it springtime already?"
"No," says Nick in a tiny voice. "It's still winter."
"Bears hate winter," the bear growls. "Do you know what happens when bears wake up too early?"
"They get grumpy?" Nick says.
"Very grumpy! Do you know what is worse than a grumpy bear?" adds the bear.
Nick shakes his head.
"A hungry bear. And bears get very hungry and very grumpy when they wake up after a long sleep. I need to eat." He bends down and sniffs at Nick and then pokes a claw gently into his belly. "That tummy smells yummy."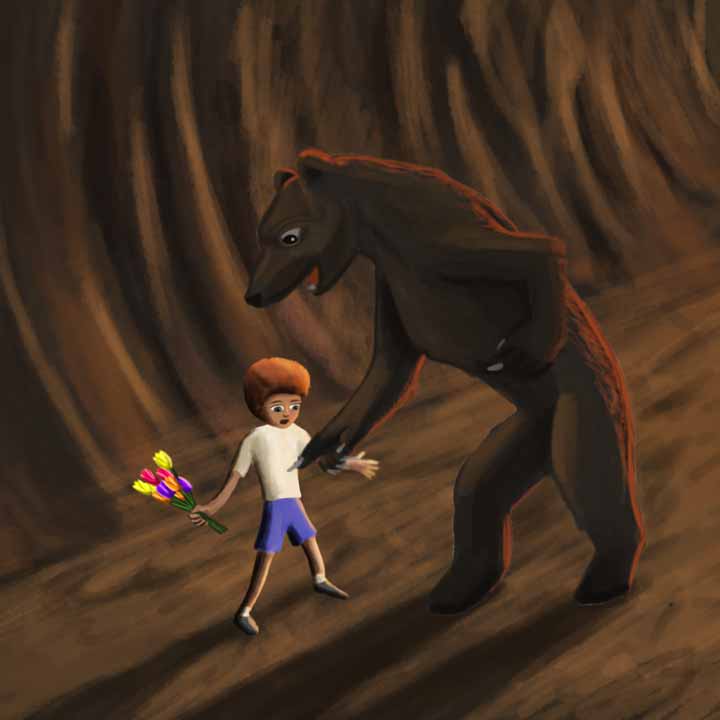 "Yummy?" Nick says in a shaky voice.
"Yes, a very yummy tummy. What did you eat for lunch?"
"A roast beef sandwich," Nick says, taking a few steps backwards.
"I've never had a roast beef sandwich," says the bear, walking towards him. "Where did you get it?"
"My Grandma made it. Please don't eat me."
"I'm not going to eat you," huffs the bear. Then he draws in a long breath through his nose. "But I do want one of those sandwiches. And because you woke me up, you're going to Grandma's house to get it for me."
Nick points towards the other side of the tunnel. "I could bring you something to eat from my home," he suggests.
"Something to eat? I don't want something. I want one thing. I want a roast beef sandwich," the bear says. "So, you get my sandwich from Grandma's house, then you can go home."
Nick thinks for a moment. "I have an idea. How about we have a competition? If you win, I'll walk back to Grandma's and get you three big roast beef sandwiches to eat all by yourself. But if I win, I get to go through the tunnel and I don't have to get you anything."
"Three sandwiches?" The bear scratches his chin. "What kind of competition?"
"A wrestling match," Nick says.
The bear snorts, then lets out a giggle, which turns into a chuckle, then a full-blown guffaw that echoes loudly along the tunnel. "You are going to wrestle me?"
"Yes. Best out of three rounds."
"And then I get three yummy roast beef sandwiches?" the bear laughs.
Nick gives the bear a serious nod. "Do we have a deal?"
"Oh yes we have a deal, boy."
"Round one then," Nick says crouching over a little. "Ready, set, go!"
The bear launches forwards and pins Nick to the ground. "One point to me," he says. "I can almost taste my roast beef sandwiches already." He helps Nick to his feet and says, "I see that you are smiling. What's so funny?"
"You'll see," Nick says, crouching again. "Ready for round two?"
"The sooner I beat you, the sooner I get my sandwiches," says the bear with a sly smile.
"OK go!" Nick says and steps to the side as the bear lunges at him again. Nick reaches under the bear's arm and tickles. The bear collapses on his belly, howling with laughter. Nick keeps tickling and the bear arches his back and shrieks and rolls onto his back.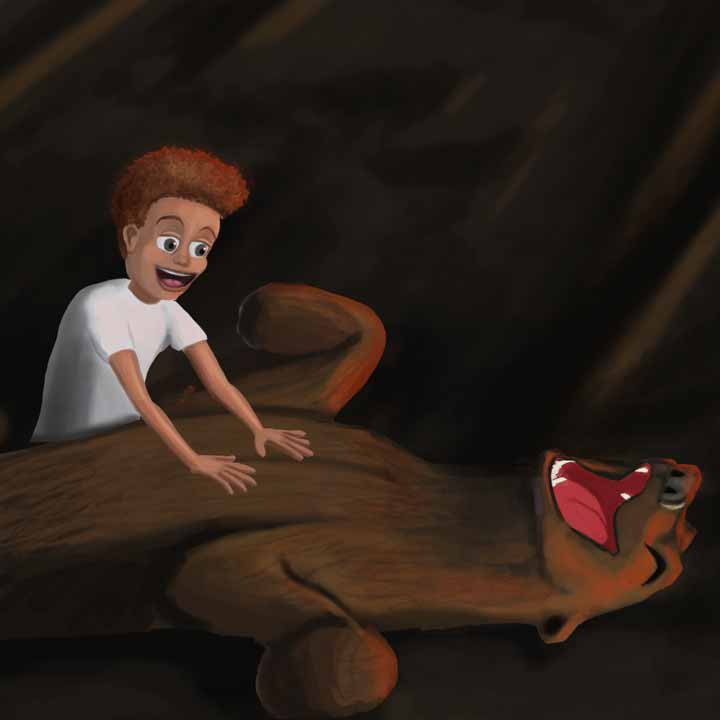 Quickly, Nick leaps onto the bear and pins his shoulders. "Gotcha! That's one round each."
The bear stops laughing. "Hmmph," he grunts, "You're tricky. I wasn't expecting tricks."
"This is the last round," says Nick. "Ready?"
The bear covers his ticklish spots with his giant paws. "Set."
"Go," Nick says and rushes between the bear's legs. The bear ducks his head and reaches for Nick and falls head over heels. Nick tries to pin him down but the bear is too strong.
"You're quick," the bear says when he is back on his feet. "Quick and tricky."
"Yes I am," Nick says proudly.
"But I can be more careful," says the bear. "And you are running out of ways to trick me."
"I only need one more way," Nick says. He begins to walk in a circle around the bear. The bear turns so that Nick cannot get behind him. Nick begins to run. Around and around and around he goes. The bear reaches out a hand but, instead of running away, Nick steps in closer to tickle the bear. The bear draws in his arms to protect himself.
Nick keeps running in tighter and tighter circles. He starts to feel dizzy, but the bear is far worse. He is already wobbly on his feet.
Suddenly, Nick lunges at the bear and says, "boo!"
The bear stumbles backwards and falls, landing on the ground with a thud. Nick leaps onto the bear and pins his shoulders.
"I win!" shouts Nick.
"Ooh." The bear burps. His eyes are darting side to side. "I don't feel so good."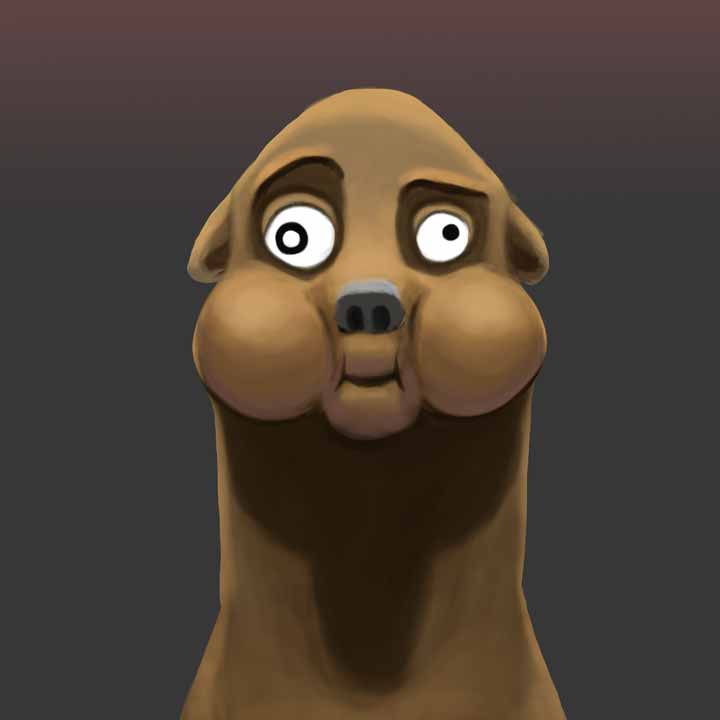 "Now you have to let me go through the tunnel."
"The whole world is spinning. I couldn't stop you if I tried," groans the bear.
When Nick gets home he gives the flowers to his mother with a big hug. She has cooked vegetarian burritos for dinner. Usually Nick eats four big burritos all himself but tonight he eats only one. The other three remain on his plate.
After dinner, Nick turns on his flashlight and takes his plate to the tunnel. Near the entrance, he hears a nasty growl and he hides behind a rock. Maybe the bear is still angry after losing the competition to Nick. There's another growl, this one is high and sounds like a question. Nick creeps forwards and sees the bear lying in the shadows. He is holding his belly.
"So hungry," murmurs the bear. It's the bear's stomach that is growling.
"Bear?" Nick says.
"Little boy? You came back."
"I brought you some food."
"Is it a roast beef sandwich?" the bear said excitedly.
"No. Burritos. Would you like some?"
The bear rolls over onto his belly and looks at Nick with tired eyes. "Bear-eat-toes," he says in a flat voice. "I don't like eating toes. They are disgusting."
Nick laughs. "I didn't say bear-eat-toes. I said burritos. It's people food: vegetables and a tasty sauce in a flour wrap. No toes at all, I promise." He holds up his plate for the bear to see.
"Mmm, they smell good. Are they like beef sandwiches?" says the bear. His belly makes a gurgling sound as he creeps towards Nick.
"On a winter's night, I like them even better than sandwiches. Try one," Nick says.
The bear plucks a burrito off the plate. It looks tiny between his huge claws. "Winter food?" he says. He nibbles the end and his eyes go wide with delight. Then he stuffs the rest of the burrito into his mouth and chews it loudly. "Wow," he says through his mouthful as a thin stream of drool pours from the corner of his mouth. "This might be even better than fresh salmon."
Nick hands the bear another burrito and takes the last one for himself. "Sorry I woke you up before the end of winter."
The bear chews thoughtfully for a while and then says, "I think winter food is my favourite. I'm glad you woke me. Thank you, boy."
If you liked it, please buy the rhyming illustrated ebook of this charming story.
Thanks for reading. Enjoy your day!