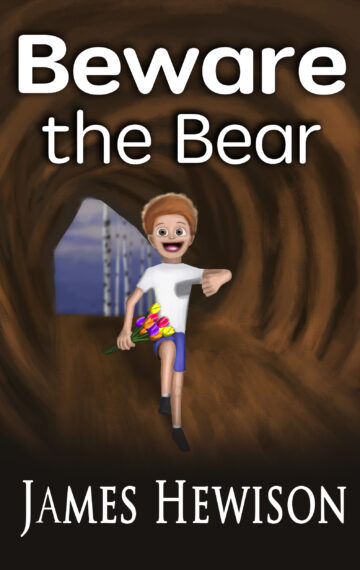 Full colour
Available in:

ebook & colour paperback

ISBN:

9780648379324

Published:

1st December 2020
goodreads
Amazon
Barnes & Noble
A good time and a romping rhyme for ages six to ninety-nine.
A charming illustrated rhyming story
Get the ebook FREE when you sign up to James Hewison's newsletter.
Nick was in the mood to take a different path home.
To see new things and be free to roam.
He didn't fully grasp what his Gran was trying to say.
Beware the bear, she warned. But he was on his way.
He bounded through the trees and he paddled by the lake.
It wasn't till the tunnel that he made a big mistake.
He stomped and sang and echoed. It was tons of fun.
But now the bear's awake. Well, there's nowhere to run.
With a little more care he would have tiptoed past the bear.
But now the bear's awake he has to trick his way out of there.
How's he going to do it?
The ending's really cool.
I don't want to ruin it, but this I can tell you:
It's more than a story, it's a rhyme with a flow.
So read it out loud. Go on, give it a go.
Please add it to your bookshelf/reading list:



Want to see what this story looked like before I added the rhymes? here's a draft version of Beware the Bear (without the rhyme and with only a few of the pictures).
Did you read it already?
Yes? Did you like it? Great! Please spend just two minutes to give the book a rating and a short review. It can be as little as a single sentence, but the difference it makes is immense. Without reviews, books simply don't sell. Without sales, authors write only for love… which is great, but it doesn't pay the bills.
You can give a review using the Amazon link (below), at goodreads or BookBub (above) or on the web site of the place you bought or borrowed it.

Thank you!!