Feedback, newsletter, and marketing
Librarians, teachers and curious kids
It has been a very busy year so far for me. I finished a book called Find My Wow (summary below) and was lucky enough to meet a few librarians and teachers who wanted to read it to their children. But they didn't stop at reading it. Each time they read it to a class, they sent me their comments – unedited and raw. It was wonderful. Not only did I feel kids' enthusiasm and excitement, but I got direct feedback and questions about things that needed to be clearer in the story. This was a new and absolutely thrilling experience for me.
In the story, one character discovers how to feel better by trying out bizarre suggestions from another character. One of the children who heard the story suggested that the main character, Blue, should pay it forward so that someone else could benefit. I loved this idea and now this is part of the story. There were other elements I added as well which tighten up the plot and make the characters better defined. I think the children will be excited to see their suggestions included and other readers will have a better experience while reading it. Thanks kids and teachers. You are fantastic.
Newsletter
Another thing that took me a while to set up was a newsletter. I'm giving away a free picture ebook for anyone who signs up (see below). This all takes quite a bit of work to determine how to do all these things. But that part is done now so if you are interested in getting a free book and a short newsletter from me from time to time, please enter your details below.
The form you have selected does not exist.
Pretty nifty eh?
Posting more on social media
If you follow me on facebook, instagram, twitter or (to a lesser extent) Linkedin, you may have noticed that I have been posting a lot more material. These more frequent posts, combined with the newsletter, are supposed to attract an audience and entertain those who are already here (hi Mum). After all, there's no point writing a great book if nobody's around to read it. So please follow, like and all that good stuff. I will do my best to make it worth your while.
Find my Wow!
This is an illustrated rhyming picture book story for ages 6-10. The story is done, illustrations finished and it's set for release on 4 July 2021. You can actually pre-order the ebook right now and it will be delivered to you on the release day. The paperback will be available on the release day too, but Amazon won't allow me to set that up for pre-order. If your on the newsletter list, above, I'll make sure you are one of the first to know when it's available.
The picture book is about a character who has lost his 'Wow!". Meet Blue…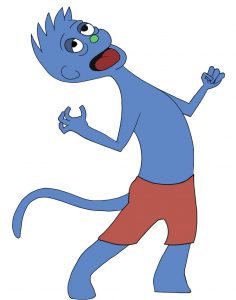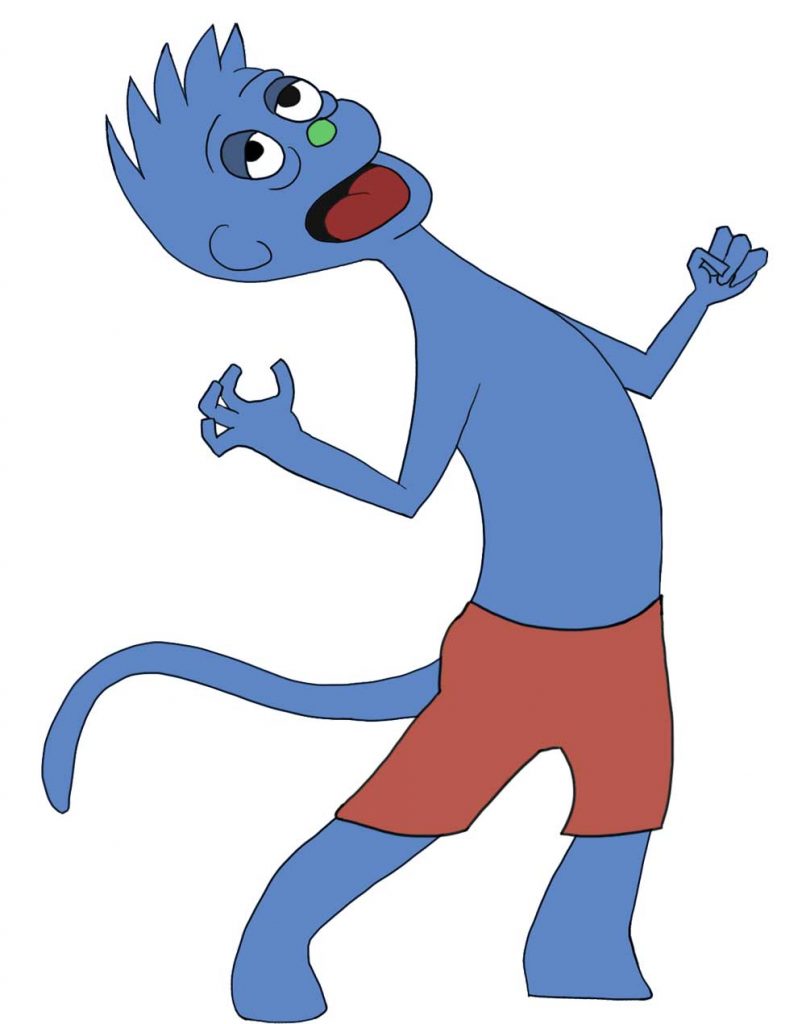 Blue needs help and Fred just happens to be there to lend a hand.
"I've lost my Wow, what can I do?"
When Fred hears Blue he can't help but give a quirky suggestion or two.
"You could try to juggle fruit, and ride one wheel and toot the flute."
"Build a rocket out of cans? Hire an astronaut called Hans?"
"You should dress up like an ape, pretend you're locked up, then escape."
With adorable persistence, Fred keeps trying ever-quirkier ideas to help Blue rediscover his Wow. Finally, Blue smiles and shouts, "I am having so much fun now. Oh my gosh, I found my Wow."
It is an uplifting story of persistence, friendship, hope and action.
This rhyme will warm you up inside
and put the spring back in your stride.
Especially if you're feeling down,
this book can help you shed your frown.
The Man with the Magnificent Moustache
I am working on a picture book about a man who grows a very big moustache. The more it grows, the happier the man becomes. Eventually it gets so bushy and long that it trips him over and everybody teases and laughs at him. He decides that he will stay away from people altogether but he won't stop growing his moustache. One day, when the wind blows just right, his moustache lifts him right off the ground. With practice, he discovers he can actually fly. But how will he keep this a secret from all those people who teased him? And what will he do when they need his help? I'm recently changed the name of the story to Marvin's Magnificent Moustache.

Here is a very rough sketch of a man with a big moustache. This isn't Marvin but it gives you an idea. The moustache looks very big and bushy doesn't it? Wait until you see Marvin's Magnificent Moustache.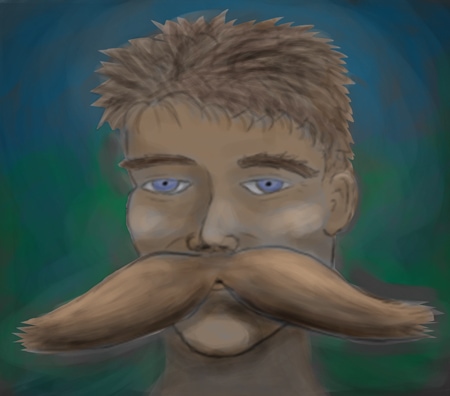 Follow James using the social links at the bottom of this page. He provides updates about new books, illustrations, readings, and anything else that seems fun in the moment.