I gave an advanced copy of my picture book Find My Wow to a school librarian before the book launch on July 4 2021. She absolutely loved the book. She said that the story, rhyme, pictures and positive messages were just what she needed. So she started reading it to groups of her students from age four to ten years.
Then she was kind enough to send me unedited reactions from the children. I loved her for this. It was so exciting and helpful to get their honest feedback. And I thought you would like to read their comments, and my response where one was needed.
What did the kids say?
– It's funny and I like the rhymes
– It's like a song
– it's very creative
– it's like Dr Seuss but the author also made it his own
– I've never seen a book like this before – I like the pictures
– the rhymes are really good – It's just like a poem!
Characters
– What is the other character's name? we know Fred and Hans…
– I think the blue guy's name should be George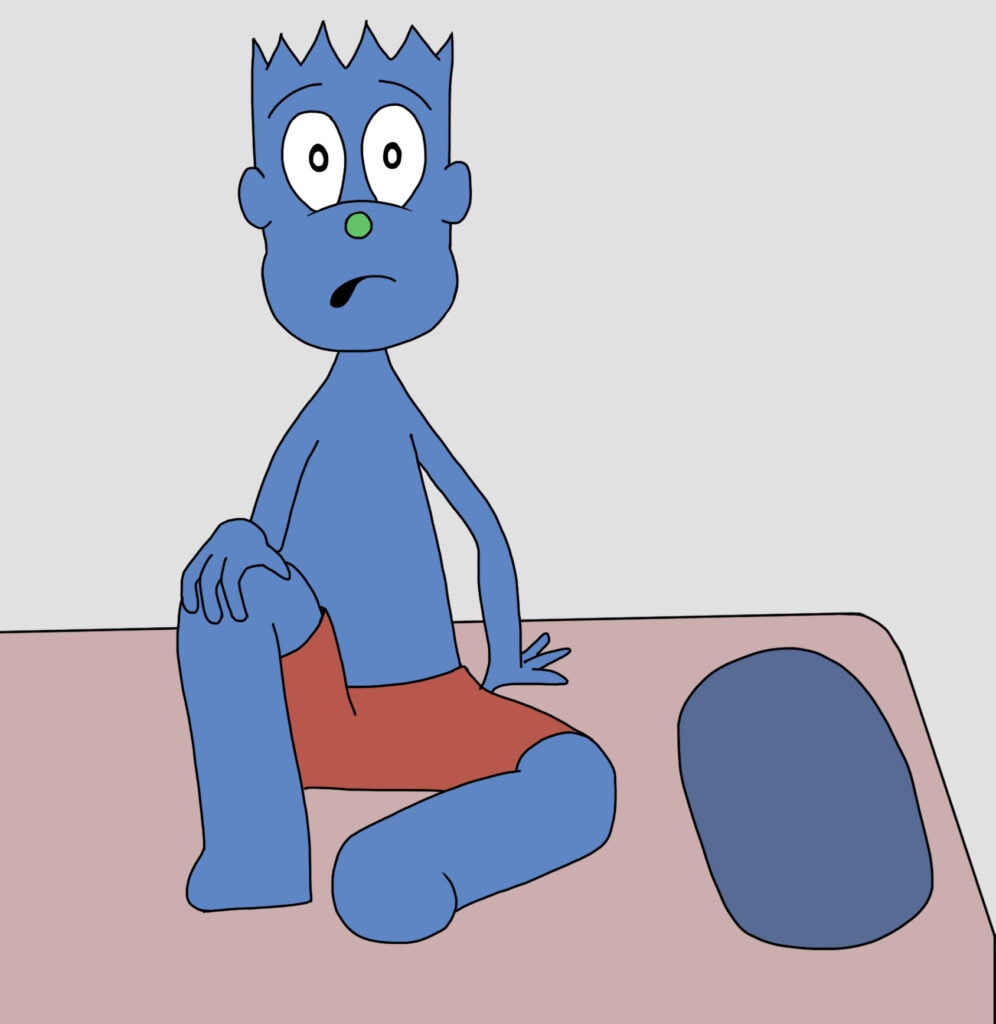 I just love that these children wanted to know the main character's name (pictured above). Its name is 'Blue'. And it makes sense that the kids wanted to know. When a book promotes curiosity, they want to talk about the characters. It isn't so easy to do that when they don't have names.
Blue wasn't named in the original version of the story, but after this question came up twice, I added it in to the final publication.
I like the name 'Blue' because it is the colour of the character and also, the way they feel (at the beginning of the story). But Blue doesn't feel blue for the whole book. Only at the start. There are a whole bunch of emotions in the middle which Blue has to deal with.
– These characters are unique
– Can the guy who lost his wow call out to his friend? Why is his friend galloping by?
– why is the rabbit green?
– is Ted a bunny?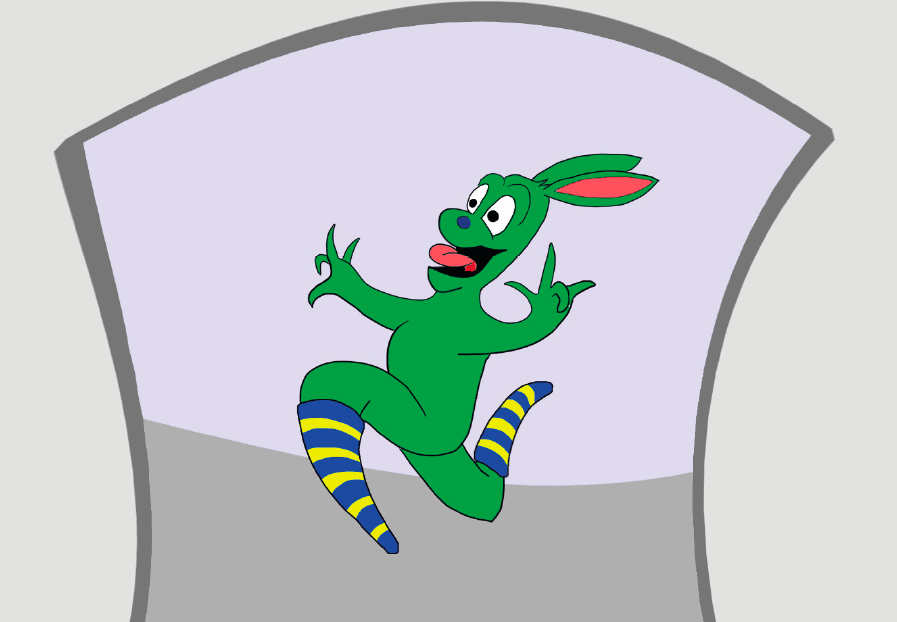 "Ted" is actually Fred who is not a bunny, though that rhymes with funny and could have worked well for this rhyming picture book. Fred is a quirky animal character with big ears like a bunny who just happens to be bounding past when a friend needs help.
Maybe Fred has big ears to be really good at listening to Blue. A good friend is a good listener.
Words
– I like that I heard new words
– the text is clean and can be read fast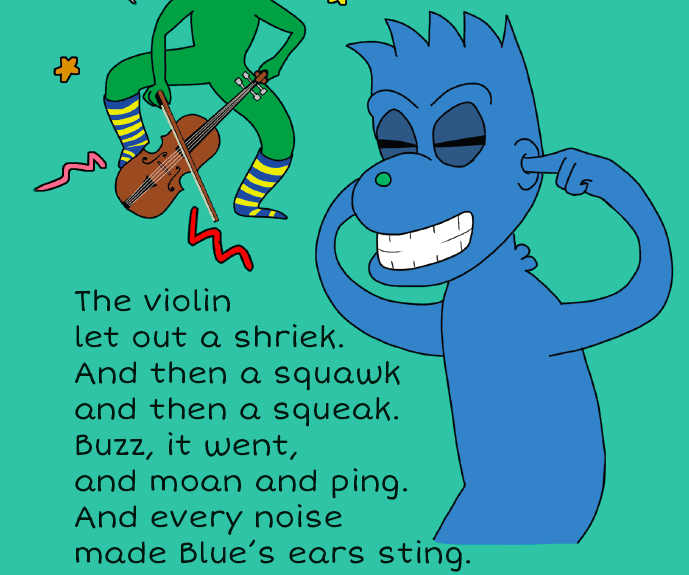 These comments from kids in grade six were great. I selected a font that looks like writing, not typing. For example the typed letter 'a' is difficult for kids to read when it looks so different to the one they make with their pencils. Since my wife teaches primary school (also known as elementary school), I asked her what she thought about the font I was using. She said this font was just right for early readers.
Illustrations and details
– Some of the font takes up too much of the illustration space
– can you add more details in the drawings? Like the bed needs something and the walls on the house need decorating and maybe even a rug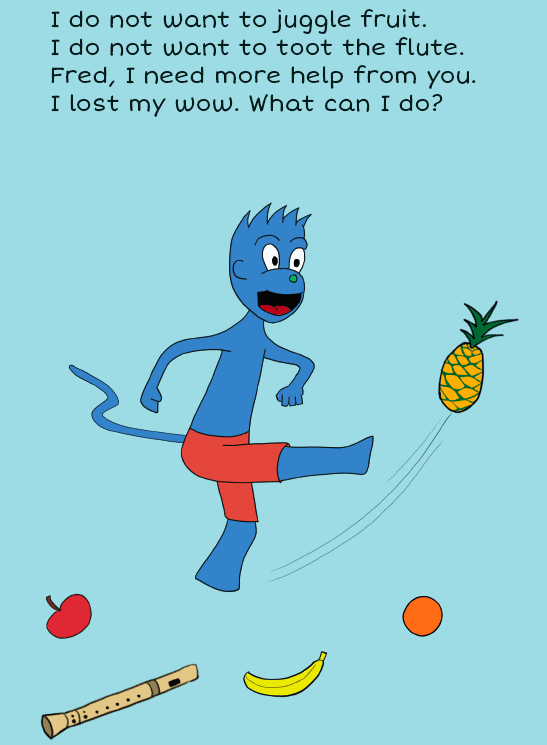 Yes I could have added more detail. But in the end I had to decide if this was going to be a book that focuses on the pictures, or the text, or a good balance of both. I landed on a balance. I wanted the pictures and text to work together. The illustrations stimulate curiosity about what is happening in the story so kids want to read the text. I wanted it to be easy to read without lots of distracting detail in the background. Then when children read or hear the words, the image gives them enough to get their minds working but not so much that it gives all the answers.
This means that the book will be great for early to intermediate readers and for children who want to look at the pictures while the story is read by their mother, father, teacher, aunt, uncle, older sisters or brothers, or all of these at once. That would be a crowded room, wouldn't it? One with lots of good conversation though.
Themes
– All books lead to a message and this book has a good message
– maybe the blue guy can be a different colour and then when he finds his wow he goes back to his original colour
– I like that it tells you how to be happy
– how exactly do you lose your wow? Is that even possible?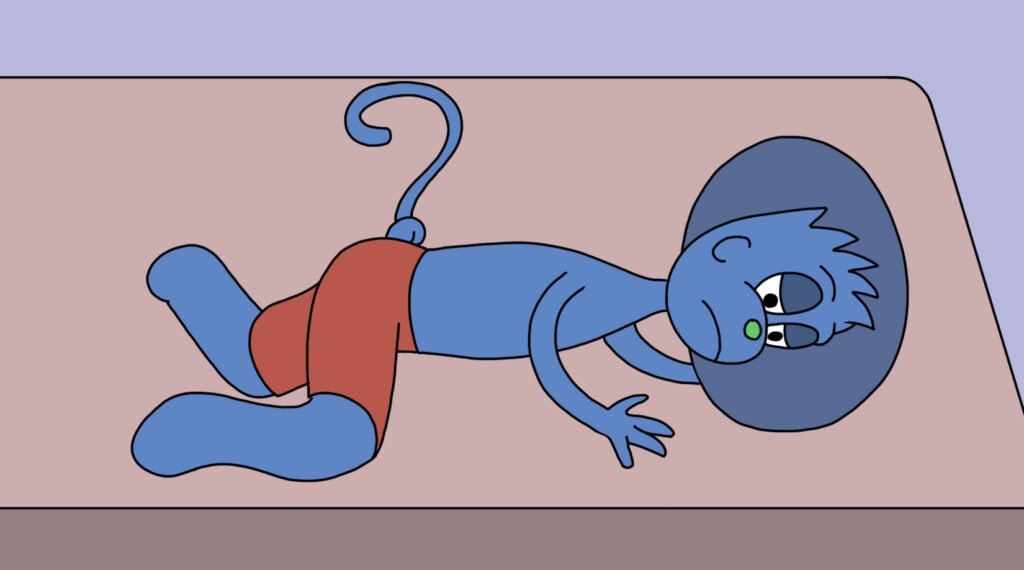 I love this for so many reasons. How do you lose your wow? My first thought was that the smart young child who said this had already learned that there are just so many things in life to keep you inspired and happy. How could anyone lose that feeling? Sometimes, kids understand life better than we do, don't they?
My second thought was: they're using the word "wow" in their language. Young minds are just so receptive and creative.
Who should read it
– it is a good book for people to read together
– I think 5 year olds would be the perfect age for this book
I think so too. Thank you very much.
– I like the message of saying yes instead of no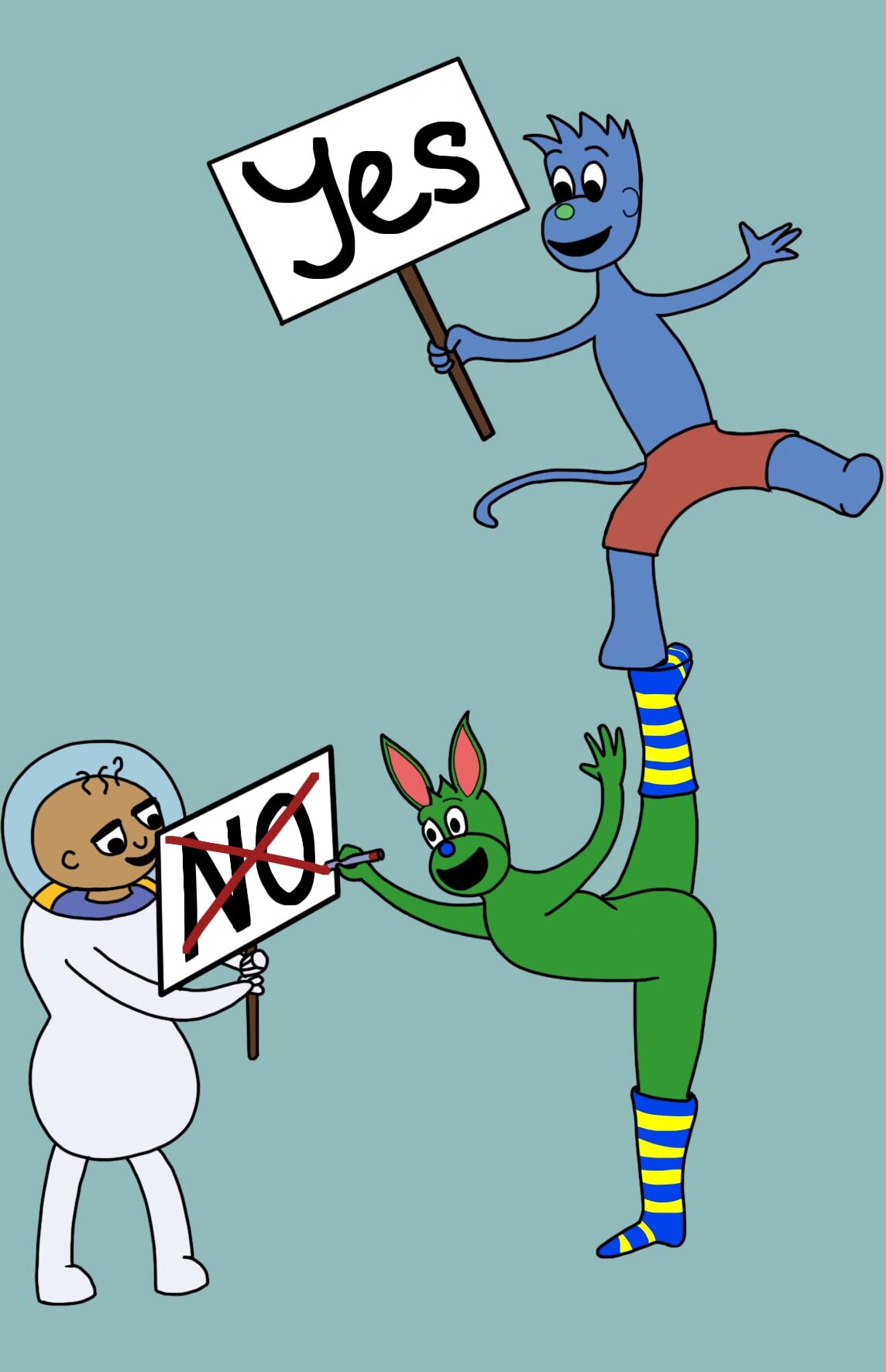 That is great news. I agree. Why don't we all say yes a bit more often?
And if you, reader, feel the same, please buy a copy of Find My Wow, an inspiring and enjoyable picture book for ages 6-10.